More Information on Tourism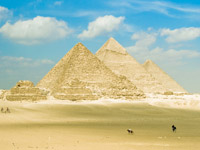 Since 1980, the United Nations World Tourism Organisation has celebrated World Tourism Day on September 27. This date was chosen as on that day in 1970, the Statutes of the UNWTO were adopted. The adoption of these Statutes is considered a milestone in global tourism. The purpose of this day is to raise awareness on the role of tourism within the international community and to demonstrate how it affects social, cultural, political and economic values worldwide

Tourism by State
Andhra Pradesh.

The state of Andhra Pradesh comprises like scenic hills, forests...

Assam.

Assam is the central state in the North-East Region of India ...

Chhattisgarh.

Chhattisgarh is a new state but with an ancient ...
Arunachal Pradesh.

Arunachal finds mention in the literature of Kalika Purana and Mahabharata...

Bihar.

Bihar is one of the oldest continuously inhabited places ...

Delhi.

Delhi is the capital state of India. A fine fine blend of old and...